I got mine on Wednesday. They sent me an email showing that it goes by order number. Its. 4 digit number like 44xx. Forget the exact number. I just barely made this weeks numbers by like 50. I would assume you'll get yours mid next week.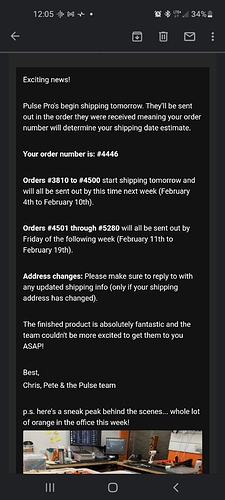 Edit: yeah I checked the email. Hopefully the screens hot shows. You should get something today unless your outside of that number. I ordered the black Friday bundle. Also check your spam because I had some emails go there for whatever reason. Goodluck you'll be happy when you get it…the co2 and par spectrum/ppfd reading is the shit.
We've got a ton of Pro's shipping out this week! Sorry for the delays.
Got it today. Its all set up. Calibration is good compared to the Pulse One (which needed temp and RH calibration).
Wish the light sensor was on top of case since that is same orientation of leaves. Pain to keep having to hold it horizontal for proper PPFD readings already…