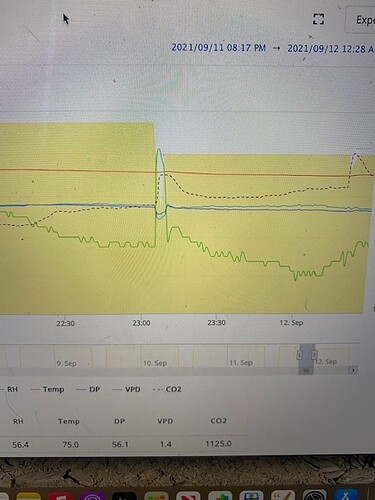 So last night I had some sort of an event that has me puzzled. Around 11:10 pm there was a substantial dip in light performance and Im trying to understand what exactly is goin on.
Im using an HLG 350R which I bought new and have had for about 2 weeks…Ive had the pulse for almost the same amount of time. Up until last night, the light was running at about 94% consistently. It dipped down into the 50% range and when it recovered, has been running at 80% since according to the pulse meter. There was also a dip in humidity and a co2 spike at the same time which has me puzzled.
Could this have been some sort of a power surge? (Im using protectors btw)
Did something happen to my light where its lost 14% of its performance?
Could this be attributed to a faulty sensor in the pulse?
I do really love the pulse and have had zero complaints but I'd love to get to the bottom of this so any help is greatly appreciated!
Thanks,
Chris